Venice Foodies Restaurant Bingo
We are so excited to announce the start of the Venice Foodies Restaurant Bingo! This game is going to be so much fun and a great way to support our local restaurants. Randomly on this board, there are offers from local restaurants.
As we continue on through this quarantine, our local restaurants are going through an incredible struggle. This should be the time of the year when they are making the income they need to survive the quieter summer months. Instead, they are having to completely revamp their business to meet the needs of the community and still coming up short.
Venice Foodies Restaurant Bingo
In spite of this, we are #VeniceStrong. Our restaurant owners are continuing to feed our lower-income residents that are suffering due to financial insecurity. They are offering free kids meals to keep our children fed when they were used to receiving a meal at school. They are setting higher standards for customer service offering new options for takeout, delivery and curbside carryout. Some restaurants are even offering to sell grocery and household items at their cost to enable us to find items either unavailable in the stores or to give those unable to get to the grocery store access.
The Rules
There are a whole bunch of generous offers on these Bingo boards! When you decide which one you want to redeem, call the restaurant to place your order and let them know you are using a Bingo offer.
If you are picking up your order, bring your card with you and the restaurant will sign the space showing you redeemed it. If you are having the order delivered or feel more comfortable with no-contact, you may attach your receipt from the restaurant to the card.
When you have a completed row on Bingo, you can turn in your card to any participating restaurant during the redemption period for a free item on their menu!
1. Customers have until April 26th to collect signatures or receipts on their Bingo cards.
2. Completed Bingo cards can be redeemed for ONE item on participating restaurants menu, not to exceed $25 from April 27-May 3rd.
3. All Bingo cards that have been collected will go into the drawing and we will have one Grand Prize Winner pulled on May 5th with a gift card from each participating location.
Offers Included on the Bingo Card
Venice Ale House – $.75 Wings
Venice Ale House – Platter & Wine:$29
Venice Ale House – 8 pc fried chicken, 4 sides, dessert $32,
Venice Ale House – 2 gyro 2 beer – $26
Hashtag Pizza – 18″ 3 topping, 6 pc knots, Wings – $32
Hashtag Pizza – 2 for $20 (12" Specialty & 12" 2-topping) excl. Dad's Kryptonite
Mitch's Kitchen – Free Silver Dollar Pancakes w/Purchase
Mitch's Kitchen – Free Cup of Coffee
Italiano's – 25% off carry out 15% off delivery
Italiano's – Family dining deals – ½ tray of entrée $29
Shark Bites – 15 % Off
Scoops Ice Cream – BOGO Single Scoop Ice Cream,
Tikka Indian – Free App w/ $25+
Metro Diner Venice- BOGO Fried Chicken Tender Plate
Big Mike's Pizza – 15% Off
Flapjacks Cafe – English Pub Fish & Chips w/ Can of Guinness for $10.95
Flapjacks Cafe – Philly Date Night 2 cheesesteaks wit, 2 bottles of Yuengling & Tasty Cake $19.95
Flapjacks Cafe – Breakfast 8 scrambled eggs, 8 pancakes, 4 bacon, 4 sausages, & fruit $21.95
The Maine Menu – BOGO blackened Shrimp tacos or 20 % Off
Suncoast Cafe – free drink and dessert with entree
Zia's Neapolitan Bakery – Orange Glazed Bundt – $18
Rib City – $5 off $25 OR Free Kids Meal w/ Adult Entree
Darrell's – Free Dessert w/ $20+
Yellow Sub Cafe – $5 Cheesesteak w/ Side (Pick Up Only)
Download Your Bingo Card Here!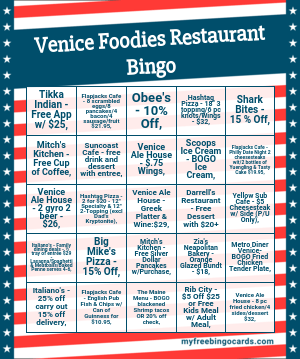 If you would like to support our efforts on this blog and on Facebook, we would certainly appreciate you considering a contribution!
Click–>Show Your Support For Venice Foodies!
Check out these other recent posts!